The movie
Thurthu Nirgama
(meaning
Emergency Exit
) begins with a few grieving relatives waiting outside a mortuary where dead bodies of their near and dear ones were kept. The bodies of
Vikram
(
Sunil Raoh
) and Jeevan (Achyuth Rao) were also lying at the mortuary. While Vikram's parents were in tears outside the mortuary, Vikram's soul is seen pleading with a nurse (
Sudha Rani
) not to send his body for post-mortem as he does not want to die so soon. Vikram's soul pleads with the nurse to allow him to lead a normal life with his parents as he has many incomplete tasks to complete. The nurse gives him three days to complete all his tasks. He demands more time but she refuses.
At this juncture, the director introduces a cab driver (Raj B Shetty) who wants to commit suicide as he is unable to repay loans availed for his friends. Meanwhile, Vikram tries to reach out to his girlfriend Milli (Hitha Chandrasekhar) but it is too late. He comes closer to Sindhu (Samyukta Hegde), a cricket coach. What happens to him and the cab driver is the climax.
As far as the performance of the artists is concerned, Sunil Raoh, as an intelligent and irresponsible son, has acted well. His performance during the second half, as a concerned son and a brother, deserves a pat on the back. Hitha Chandrasekhar and Samyuktha Hegde have acted well. It is Aruna Balaraj who steals the show with her sterling performance. Nagendra Shah, as a concerned father, has provided good support. Sudha Rani and Achyuth Rao have also acted well. Raj B Shetty as a gullible cab driver, who stood as a surety for some cab drivers to avail loan and as a concerned son and husband, is convincing. The movie conveys the much-needed message to society, especially youth, that committing suicide is not a solution to problems.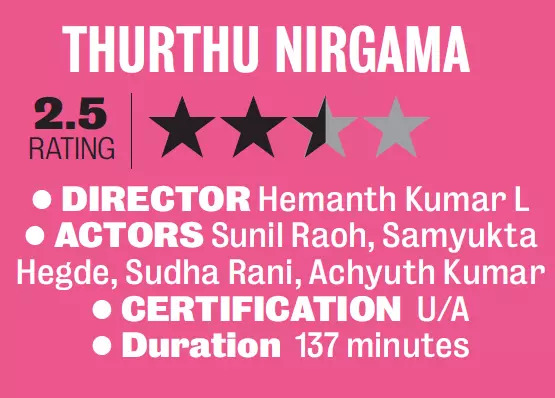 The movie fails to impress the audience because of its usual format. It has no elements such as stunts, hero and heroine running around the trees or comedy to entertain mass audiences.
The scene where Samyukta Hegde falls in love with Sunil Raoh is far from convincing. This movie is a sort of fantasy drama that ends up confusing the audience.
It is worth watching if you have the patience to delve into woes of middle-class families.